Will You Be A Glasshole? | Techcitement*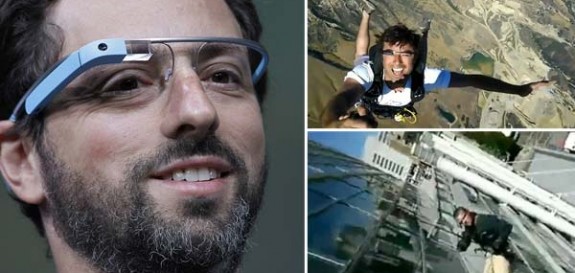 Some point in the late 1990s during one late Sunday night in Brixton, South London, I was waiting on a bus to go home. A guy came up to me, mumbling. I became nervous. Was he a nutter about to stab me? He had a hood on and it was drizzling lightly, if I recall correctly.
The sky above the port was the color of television, tuned to a dead channel.

William Gibson, Neuromancer.
It turns out the nutter was talking on his phone, on a headset or an earpiece. I couldn't see it, it was dark and wet, and the device was concealed in his clothing. While crazy people wandering around Brixton was nothing new, people walking around talking to themselves was a recent development. Mumbling, shouting, swearing obscenities. Mobile phones were everywhere. I couldn't take the train to work in the morning without some loud-mouthed jerk yelling about how he was "Gonna be there in five minutes" and how kippered he was after last night's drinking.
Now, a decade later, there are numerous opinion pieces in countless magazines around the world, wondering "
Do Bluetooth Headsets Look Stupid?
" (yes) and how they can negatively affect your driving (talking on a cell phone and driving is totally like driving drunk, which is a TOTALLY PROVEN
SCIENCE FACT
.)
There's a subtle piece of body language that allows you to walk through crowds unmolested.
Lifehacker
ran a brief piece on it, reprinting from Reddit:
When I walk through large crowds of people, to avoid walking into anyone, I simply stare at my destination. I look no one in the eyes. People actually will watch your eyes and they avoid the direction you are going. If I look into people's eyes as we are walking into each other, we are sure to collide. You have to let people know where you intend to go with your eyes. It always works for me, try it!
I have worn a computer vision system of some kind for 34 years, and am the inventor of

the technology

that I wear and use in my day-to-day life.

…

Although it has varied over the last 34 years, I have worn the present embodiment of this system (pictured below) for 13 years. This simple design which I did in collaboration with designer Chris Aimone, consists of a sleek strip of aluminum that runs across the forehead, with two silicone nose pads. It holds an EyeTap device (computer-controlled laser light source that causes the eye itself to function as if it were both a camera and display, in effect) in front of my right eye. It also gives the wearer the appearance of having a "glass eye", this phenomenon being known as the '

glass eye' effect (Presence Connect, 2002)

.
Cyborgs not only disrupt orderly power structures and fixed interests but also signify a challenge to settled politics, which assumes that binary oppositions or identities are natural distinctions.
"Using
Google+
or
Twitter
, tell us what you would do if you had Glass, starting with the hashtag #ifihadglass."
Winners get to spend $1,500 on a pair.
People have entered a competition so they win the chance to spend $1,500.
Software developer Andre Torrez could probably make that back inside of a week:
Already, Google Glass has had its share of criticisms.
Thank goodness I didn't attend
Google's Glass Foundry
event back in January. If so, I wouldn't be writing this now because of the NDA I would've been asked to sign. If any of those attendees
fall into a manhole
as a result of distracted walking, Google would only pay them $100. These events have spawned countless Glasshole
sightings around New York
and San Francisco, including Sergei Brin (Google co-founder) riding the subway wearing a pair.
His eyes were eggs of unstable crystal, vibrating with a frequency whose name was rain and the sound of trains, suddenly sprouting a humming forest of hair-fine glass spines.
William Gibson, Neuromancer
I'll be one of the heaviest users of Google Glass in the world. I'm excited by getting them. But there are times and places where I expect that I'll be asked to take them off. There will be times I ask other people to take their wearable computers and recording devices off too.

So, if you are a bartender, you better watch out. Those of us who will be wearing Google Glass are often influencers, rich, and willing to change OUR behavior when it comes to spending our money, time, attention. Hint: I tip well and drink a lot of expensive Scotch (although I'm trying to cut down, which the Glass will help me with too).
Too bad for Scoble if his Google Glasses are attached to prescription lenses. I wonder what his interaction would be like with Steve Mann, who requires special tools to remove his EyeTap. Or would Scoble fly into a scotch-fueled rage and act like a French McDonald's employee?
'When you buy a new phone, it's in your pocket, but this, you're wearing something on your face. Anyone that cares what they look like is not gonna wear Google glasses. That's my opinion,' Madonna said. 'If you are super nerdy and you like to show off that you're in tech and smart and all those things, I can see you probably wearing Google Glasses, but you are probably in a bubble or … new. We've all heard all this stuff. Like, this guy moved to SF and he comes to the bar. He's from Scottsdale and he's using all these [tech] words. I had to stop him. I said, 'You sound interesting and different in Phoenix, but you sound boring here. You are cliche.'
What's the worst that could happen though?